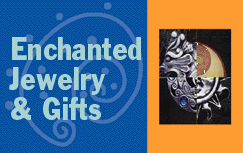 Enchanted Jewelry has so much more to offer in addition to their vast line of quality New Age, ethnic and Pagan jewelry- handmade candles and soaps, aromatherapy, greeting cards, books, dream pillows, incense...... try the drop down menus on the home page to discover all they have to offer.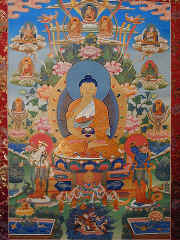 CHINA FENG SHUI has art work from Tibet and China- all kinds of Tibetan thangkas like the one pictured, camphor wood Buddha statues, calligraphy, feng shui items, fine art paintings, and embroidery like you've never seen!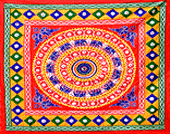 Shalin Craft is a woman owned business from India featuring the most sumptuous fabrics, gorgeous exotic costumes, furnishings, miniture paintings, and if you've ever wanted to learn to play a sitar, check it out! They also have pages full of folk tales, history, customs and religion, so if you've ever been curious about India.....
Africa Imports has a large selection of genuine, hand dyed African fabrics, clothing, jewelery, musical instruments, toys, arts and crafts, furniture, even cosmetics and fragrances. Click the button that says "free articles"- you'll discover a wealth of educational information about the cultures of Africa.